About

Philosophy
At The Mount Carmel Early Childhood Center (TMCECC) we believe that every child has an innate passion for learning, and that through play young children begin to understand their place in the world.
At TMCECC each child's curiosity and creativity is nurtured as they actively explore their natural environment and community. Children's interests guide the curriculum and are often the basis for themes and projects explored. By investigating real life experiences in their communities, children make sense of their world. Learning about themselves, their families and their community through hands-on activities and exploring topics which emerge from their interests empowers children as learners.
As facilitators of the curriculum, teachers reinforce the learning by providing activities to enrich children's experiences. In an organized, serene, center-based classroom teachers observe and support the children as they grow and develop at their own unique pace, respecting each child's diverse learning style. Together the children, their families and their teachers create a community of lifelong learners.
The Director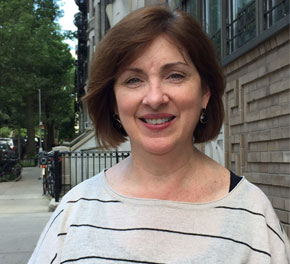 Maura Lorenzen is thrilled to be serving as the Director of The Mount Carmel Early Childhood Center. As an educator for more than thirty years, she is looking forward to the opportunity to be part of the team creating a brand new school!
An expert in her field, our director has accumulated over 26 years experience in Early Childhood Education. Prior to her current position, she was the director at Congregation Beth Elohim's Early Childhood Center. Most recently, Maura served as the Principal of Saint Saviour Catholic Academy in Park Slope, Brooklyn, where she spearheaded the creation of an engaging nursery and preschool program.
After graduating from St. Joseph's College with a bachelor's in Child Study and Special Education, Maura then went on to pursue her two master's in Elementary Education and School Building Leadership.
Maura is a lifelong resident of Brooklyn. She and her husband have four sons and one grandson. Maura lives in Windsor Terrace and after spending her career thus far in Park Slope, she is delighted to get to know the exciting neighborhood of Williamsburg.
Location
10 Withers Street Brooklyn, NY 11211